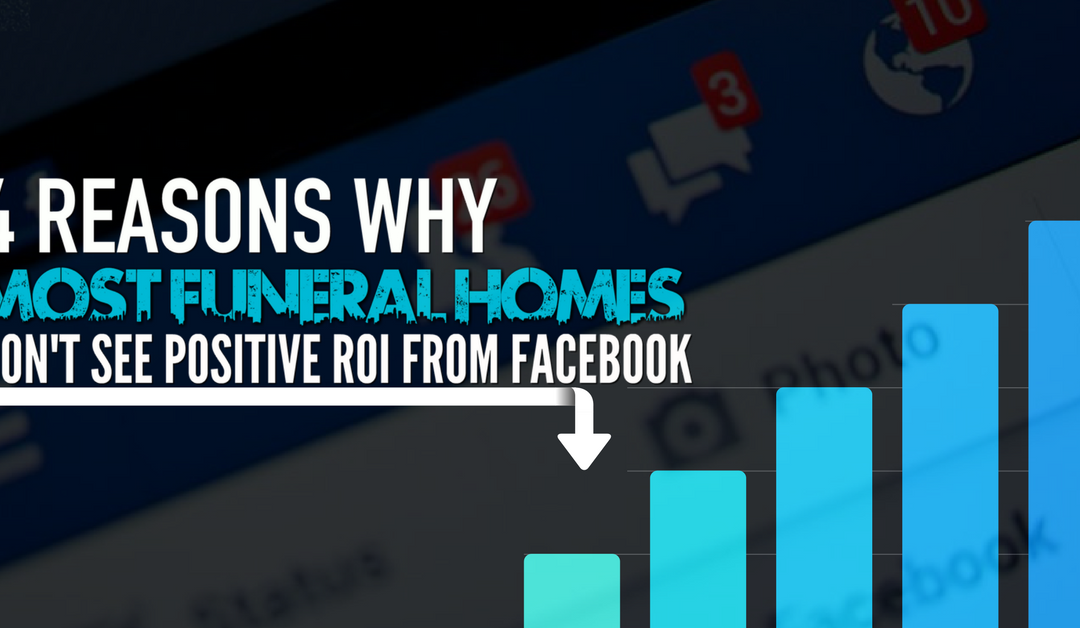 Facebook is the most cost effective way on the planet to reach a targeted audience, however, most funeral professionals and funeral homes we talk with aren't seeing positive return on investment (ROI), specifically from Facebook.
This makes me sad considering we have a process that is producing great results for funeral homes. We have clients driving over $15,000 a month is sales from preneed leads on Facebook. But at the end of the day most funeral professionals are putting little time into social media and on their own aren't able to piece together a social media marketing strategy that drives business results.
Here are a few common reasons that funeral homes don't see positive ROI from Facebook.
1. Lack of Strategy (No Plan)
The top reason funeral homes fail to see results from their efforts on Facebook is a lack of strategy. This is true for both national brands and independently owned funeral homes.
A social media strategy is NOT just posting pretty pictures (generic content). You need to identify your goals, outline your content plan to help achieve these goals, allocate an advertising budget and measure the results against your goals to determine success. These four points will come together into a solid basic social media strategy that you should measure and optimize.
With an overall strategy in mind, you have a foundation and game plan with which to align everything you do on social media.
2. Obsession with Tactics (5 Minutes Fix)
A solid social media strategy will always beat flashy tactics.
There are no shortcuts or gimmicks that will help you have long term success with Facebook. Gimmicks and shortcuts are a short term play. Having a solid foundation with a well executed social media strategy is the long term play and one that supports the long term success of your funeral home.
The moral of the story is stick to your strategy and don't put too much faith in the tactics that can come and go very quickly. Many funeral homes are obsessed with keeping up with what's new and shiny (and easiest) when they really should be focused on what works. If you want to win the game, you have to play the game. No shortcuts or 'Five Minute solutions' are EVER going to help you win the long game.
3. No Time Investment (Sweat Equity)
About 2/3 of funeral homes we talk with are trying to do social media 100% on their own with no help from an outside company. This is good and bad.
Good in the fact that they are at least seeing Facebook in a positive light and know they need to be engaging there but bad because they just don't have the time or the knowledge.
There is also a HUGE cause for concern when funeral homes who are using an outside partner are choosing the wrong provider. There are some funeral homes going after the quick fix and believing that they can 'schedule their entire year of Facebook in just 5 minutes'. My thoughts on this are below:
4. No Advertising (It's Not Free?!)
A few years ago, you could use Facebook to reach thousands of people and drive solid website traffic. In 2017 having no advertising budget for social media can drastically suffocate your results. Regardless, Facebook is the most cost effective way on the planet to reach a targeted audience. Funeral homes who take advantage now will be getting in when Facebook advertising is massively underpriced and traditional marketing methods are grossly overpriced. Just look at the chart below that shows the CPM (or Cost to Reach a 1,000 people) of current marketing methods. Facebook is much more cost effective.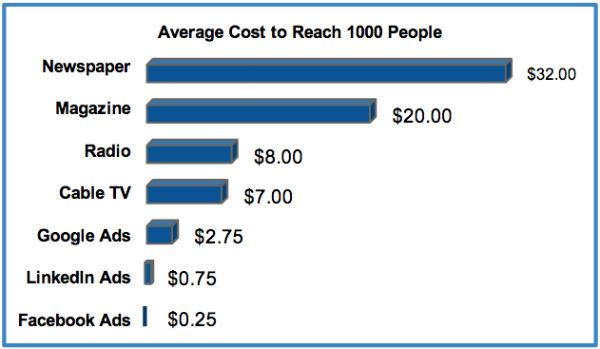 But you don't need to break the bank. As a social media agency, we've worked with funeral homes that have allocated as little as $200 per month in Facebook Advertising spend and have been able to generate positive ROI. Not having advertising dollars isn't a deal breaker, however you need to set your own expectations that it's going to be a long hard road to positive return on investment without it.
On an average spend of $500 a month we have clients who bring in between $10,000 and $15,000 a month in sales from preneed leads generated through Facebook ads. I have said it before and will say it again, if you are not driving leads through Facebook, you are doing it wrong!
If you're reading this and feel like these points resonate with you, it's time to get serious. We must treat Facebook marketing the same as any other marketing channel if we're going to see true business value. Facebook marketing is massively underpriced and it's not just good will marketing. You should absolutely be driving leads through social media.
Schedule a live demo with DISRUPT Media: https://www.disruptmedia.co/demo/
About Author
Ryan Thogmartin is a death care entrepreneur and the CEO of DISRUPT Media and creator of ConnectingDirectors.com. | Follower of Christ | Husband | Father | Entrepreneur | Host of #DISRUPTu! and #FUNERALnationtv | Lover of Skittles
Watch FUNERAL Hustle: https://www.youtube.com/playlist?list=PLkzmzds-VgOy_lT4ekLspCdQrxXqTxlEu
DISRUPT Media is a social media first marketing company that focuses on social storytelling for funeral companies. DISRUPT uses insights gained through analytics to build creative campaigns that achieve actual business goals.