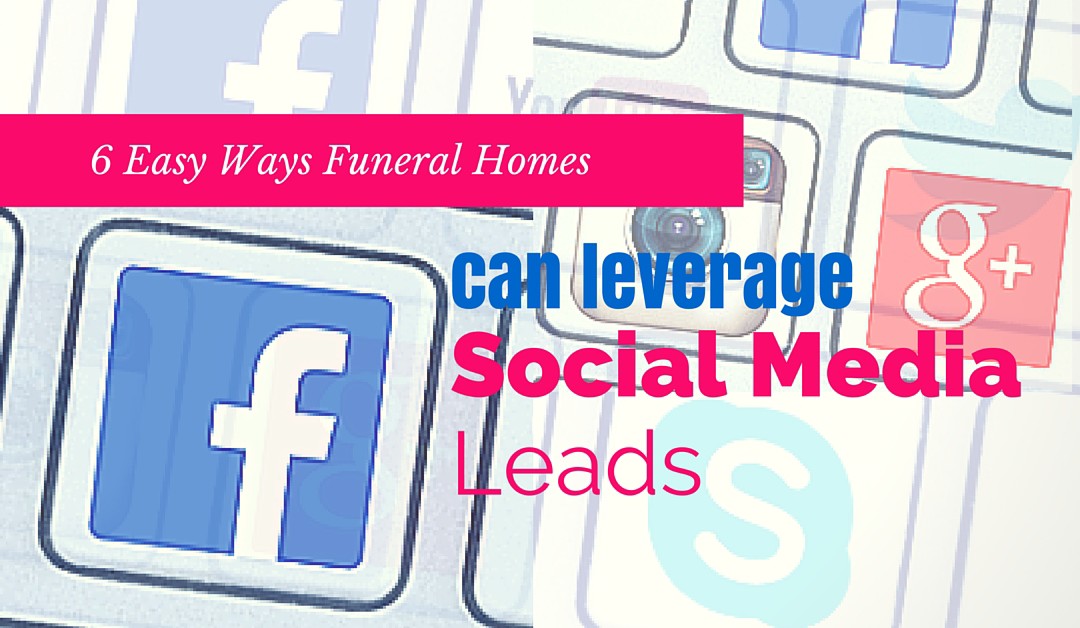 Welcome to 2016...ok, we are a few months into the new year and hopefully by now you're using social media to engage with and learn about your fans, community and potential customers.
Contests and promotions remain a fun way for followers to interact with with your funeral home. Yes, funeral homes can run contest campaigns and promotions on social media. After all, who doesn't love winning a contest? You can always take Mom to lunch by yourself but winning a free limo ride and $100 gift card to your favorite place from the local funeral home is much cooler.
However, contests and promotions are only powerful if you do something with the data you collect.
We also understand that sometimes it can be hard to see the bigger picture and know exactly what your next move is going to be.
That's why we want to provide you with 6 ways that you can leverage the data you collect from your fans.
#1. Run an Email Marketing Campaign
This is by far the most common and successful strategy we see. First off, research has shown that 94.7% of brands use their promotion forms to collect an email address.
Another study done by
McKinsey & Company
found that
email is nearly 40 times better than Facebook and Twitter at acquiring customers (social is engagement first, sales second)
.
People are on social media to be social (duh!), and most people don't want to be sold. However, most people are more than willing to provide their email address for a chance to win something.
It's best to do a little research before diving into your marketing campaign. Use the data you collected to determine what kind of content should be included in your email campaigns. Here is an example of what I mean; we crafted a 'Thanks, Mom' Mother's Day contest for a client that ran on their Facebook Page. The contest generated 86 leads in 14 days with a $100 Facebook ad spend, for those doing the math, thats only $1.16 per lead (Yeah, I know, that's pretty good). With the data collected in this campaign we can place the leads into one of three different email campaign categories:
Welcome Series (introduction to the funeral home and staff - every lead falls into this category)
Pre-Need information and planning guides
After Care, Grief and Memorialization Information (leads with Mother's who are deceased)
The takeaway — don't rush the sale on social or via email. Use your campaign or contest to collect an email address (additional information like phone, address or zipcode are extremely valuable also) and craft a strategic email marketing campaign that will keep you in communication with your fans even when you're not doing all that you should be on social media.
#2. Ask for Reviews/Feedback
Reviews and feedback can help draw more potential client families to your funeral home, more eyes to your website and more money spent in your sympathy store. Also, with the recent launch of Facebook Professional Services reviews play a large role in your funeral home's visibility in Facebook Professional Services, it's important to encourage your customers to do these things.
If you're one of the 94.7% of people who are collecting an email address from your followers, use one of your emails to ask your customers for some feedback or to review your funeral home. If you know you plan on eventually asking for reviews/feedback from your entrants, it may be worth it to add some additional form fields such as whether they're an existing client family or if this is their first interaction. This will help better analyze the feedback you receive.
If you're asking for testimonials, make sure you ask for permission to feature the testimonial on your website/blog/social networks.
#3. Offer Something Exclusive
Even though email marketing is still a majorly successful communication tactic, people are still inundated with emails every day, and funeral homes must find a way to stand out in the crowd.
Exclusivity is a great way to not only incentivize your fans but to also get a little more out of your leads than you previously would have.
I'm sure you're thinking I'm crazy but picture this:
Maybe you are promoting a 'pre-plan' educational/interactive event only to your leads and you offer an upgraded urn or free burial plot with purchase of a pre-need funeral plan.
Obviously a free gift is much more enticing than simply subscribing - even if it is coming from a funeral home.
#4. Educate
As funeral homes it's hard to not think about the sale. Ultimately, every business's goal is to get a sale! Especially if you are the pre-need sales manager. However, the path taken to get to a sale has vastly changed. Remember, the death-care profession is relationship driven.
As I've previously mentioned, people on social don't want to be sold and funeral homes are fighting to stand out in the social, email, and online crowds. Educating is the most successful path you can take to the sale.
For funeral homes, your customers don't need your product/services on a daily basis. This means that when it is time for them to need you, either preplanning or at-need, you want to be top of mind. This is where educational marketing really steps in. Positioning yourself as an expert in your field and continuing to educate your fans and followers without selling them will mean that once it's time for them to need your services, they will think of you first. Consumers have many misconceptions about the funeral profession and death care business. Educating your community about these misconceptions will help break down some of the walls that have been built surrounding the death care profession. Being transparent and real when educating will also help forge trusting relationships with your fans and followers.
Try using Facebook Live to create educational experiences with your community. You can use any additional data that you collect from your fans to target your educational materials.
[button link="https://disruptmedia.co/demo/" type="big" newwindow="yes"] Schedule a Demo and Learn How We Can Help Your Funeral Home Leverage Social Media[/button]
#5. Targeted Advertising
Data-driven advertising is perhaps the most personal and successful form of advertising available to funeral homes. Your customers expect a tailored message delivered to them that peaks their interest and doesn't waste their time.
Social networks and online advertising outlets have made it convenient to target advertising as long as funeral homes are collecting the right data.
Our favorite way to target people is using Facebook ads. Facebook ads are cost effective and the targeting options are the most accurate of any advertising option. Using a marketing campaign and Facebook ads you can target via email address, interests, hobbies, job function, actions taken, website retargeting, and pretty much anything else you can think of. The Mother's Day contest I mentioned above allowed our clients to collect extremely valuable data about their fans and followers. That data can be used to create hyper targeted ads that are directed at the specific interests of a select user demographic.
So the next time you build your marketing campaign, consider which data you can collect to help you run some valuable ads.
#6. Analyze and Learn
One of the most valuable ways to use your data is for analyzing and learning purposes. Look at your lead data through an analytical lens. These are the direct results of your Campaign. The amount and the quality of the responses is a good indicator of success. This information can also help drive the decisions and goals for your next Campaign.
While any business can implement the ideas presented above, it can be an uphill climb to get started and it can be time-consuming. If you need help, the professionals at DISRUPT Media can work with you to create and maintain an effective presence on Facebook, Instagram, YouTube, and/or Twitter. We can craft a social media strategy tailored to your funeral home using our exclusive four part FUNERAL Social Design Process. Our process is what enables DISRUPT Media to claim that we are the funeral profession's only full-service social media management firm. Our clients who are a part of ourFUNERAL Social Design Process are seeing an increase in post reach and engagement of over 300%. Go to https://www.disruptmedia.co to find out more about the services we offer.
---
About Author
Ryan Thogmartin is a death care entrepreneur and the CEO of DISRUPT Media and creator of ConnectingDirectors.com. | Follower of Christ | Husband | Father | Entrepreneur | Host of #DISRUPTu! and #FUNERALnationtv | Lover of Skittles
DISRUPT Media is a social media first marketing company that focuses on social storytelling for funeral companies. DISRUPT uses insights gained through analytics to build creative campaigns that achieve actual business goals.