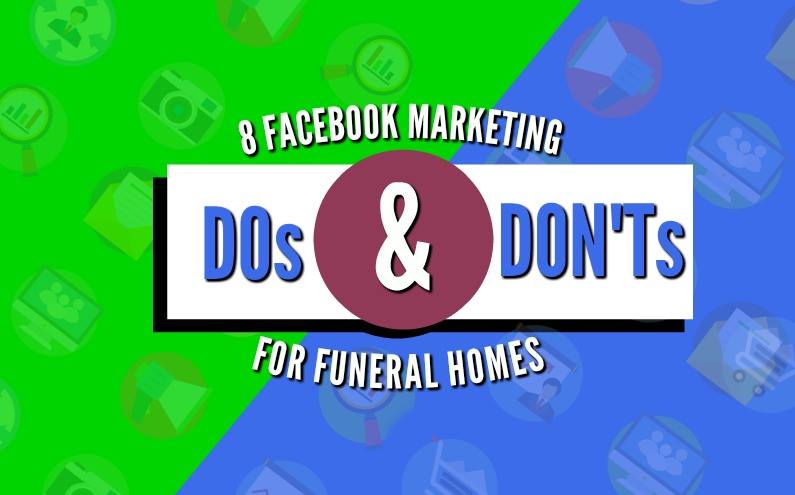 Social media has taken every industry and profession by storm. But it's not like it came quietly, we have been talking about it for years. Everyone saw it coming, but no one in the death care space was prepared.
Now that social media is here to stay, and it isn't going away (yeah, some of you still think it's a fad), the question becomes how do funeral homes become relevant in their social media presence?
Creating meaningful content to publish on Facebook isn't a simple task; it's time-consuming and challenging. Staying afloat is one of the hardest demands in today's social media-enthralled world. We have compiled a simple list of dos and don'ts to help funeral homes establish and maintain their social media presence.
Let's start with the DON'TS:
Don't give an employee full admin access to your business Facebook page.
Say you don't have a personal Facebook page, but one of your staff does. The simple thing would be just to have them create your business Facebook page since they already know the ins and outs of Facebook, right? WRONG. What happens if this employee decides to quit or is fired? They may become upset or angry, and they have complete access to the Facebook page, meaning they could delete the page. If the disgruntled staff member wants to play hardball they can. There is virtually no way for you to gain admin access at this point.
Avoid all of this trouble and headache by simply becoming the admin of your Facebook page. If you don't have a personal Facebook page, just make one that is private for the sole use of becoming the admin, or join the 21st century and connect with friends, family and your community on Facebook. Your choice!
Don't post obituaries on your Facebook page.
Obituaries are not good content. They clog up newsfeeds and aren't engaging. Facebook shows posts that people engage with; if you are constantly posting obituary after obituary, and they don't get many interactions, Facebook won't give your posts top priority. So, when you do post something engaging the likelihood of anyone seeing it in their newsfeed is pretty low. The bottom line is obituaries clog your feed and people aren't going to interact with them, so don't post them to your Facebook page.
*If you live in a small market (under 20,000 people) obituaries can be valuable content because everyone knows everyone. We still do not recommend these all live in the Newsfeed but through an app on your Page.
Don't ignore consumer interactions on your Facebook page.
The funeral profession is a relationship-based business. If someone leaves a review or comments on a post, regardless of good or bad, someone on your end needs to respond to their remarks. The funeral home can even just use a few generic responses; anything is better than nothing. Establishing relationships online is just as valuable as building relationships in person. A virtual handshake is worth just the same.
We'll end on a more positive note by introducing the DOS:
Facebook is still king. Use it.
Of all the social media platforms available today, Facebook has the most users. Facebook hits the exact (45-65+ Female) demographic funeral homes want to engage with. Take advantage of Facebook and all of its features.
Sharable content: educational and entertaining.
Create content that consumers will be interested in, not something they just scroll past. Catch their attention with images and videos. Shareable content would be things like contests or Mother's Day and Father's Day videos. These things increase your following and make users more interested in your page. That's the whole point of online marketing – bringing attention to your business and attracting consumers.
Post those videos.
Videos grab consumers' attention and draw them in. Consumers would much rather watch a short video than reading a long written post. Do yourself a favor and adhere to their interests. Facebook gives priority to video in the newsfeeed, meaning that video with organically reach more users than any other type of content. Video also receives 75% more engagement than any other type of content.
Ads and boosted content on Facebook.
Facebook is the way to go when it comes to promoting your funeral home or death care company on social media. Facebook allows you to create ads and boost your content, both of which you have to pay for. When you boost a post, you can decide how many people will see the post and how long the boost runs for. It's not expensive to market on Facebook, and it's especially worth it since you can decide how many people you want your posts to reach. This investment is more valuable than other advertising platforms. We cover Facebook advertising in depth in this article: https://disruptmedia.co/facebook-advertising-cost-everything-funeral-homes-need-to-know/
Start exploring Instagram.
Instagram is a visual-based social media platform owned by Facebook. Users can post pictures with captions, and it has a story feature where users can post multiple pictures and videos throughout a 24 hour period. It's a great way to engage with consumers because it's what consumers love – pictures and videos. The best thing is that visual elements, like the ones posted on Instagram, are easy to produce. Take a simple picture, write a witty caption and wait for the likes to roll in. It's a low maintenance platform that is definitely worth the small amount of time needed to keep your profile up to date.
These are great guidelines to keep in mind going forward when spending time on your funeral home's Facebook page. If you liked these ideas... there are more where that came from! Click to read our list of 18 brilliant ways to grow revenue and increase call volume.
All of these pieces of advice can be found on DISRUPTu! And FUNERAL Nation episodes, so be sure to check them out to stay on top of the game.
Co-authored by Maddie Ashby in the perspective and guidance of Ryan Thogmartin.