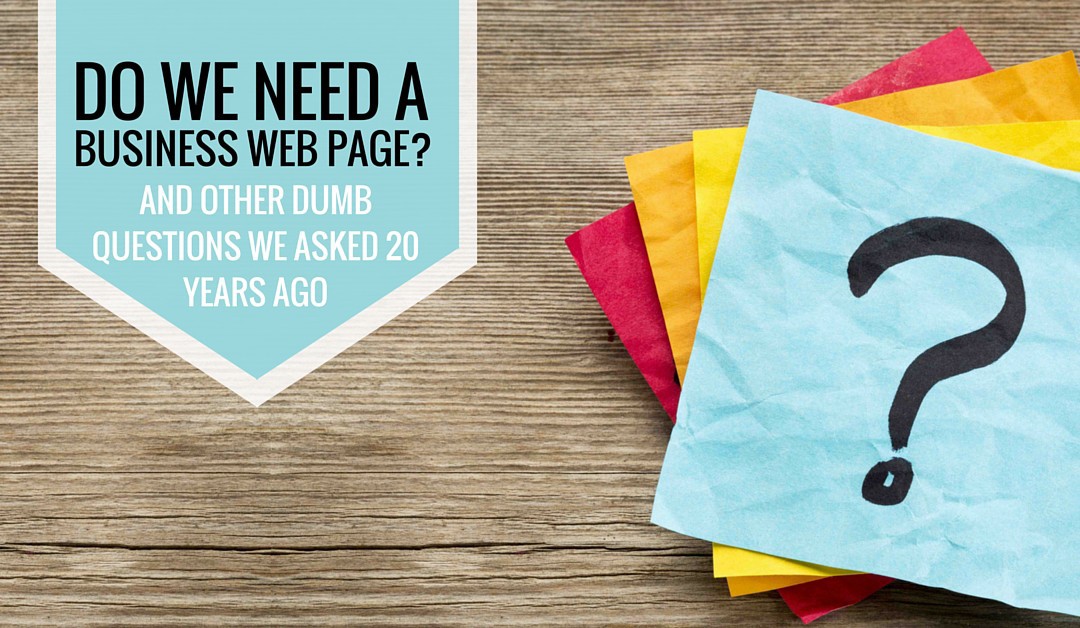 Can you flash back in your mind to 1996? That's the year the DOW went over 6,000 for the first time and the year Prince Charles and Princess Diana got a divorce. In that year the movies "Twister," and "Jerry McGuire" were released ("Show me the money!"), and the summer Olympics were held in Atlanta, Georgia. The World Wide Web was moving from the adolescent stage and coming into its own as the "dot-com" revolution was just taking off.
In the midst of so much change, I'll bet that some of the conversations among funeral professionals back then were around whether it was really necessary to launch a web page for their businesses. "Why would a small business like ours need a web page?"
Maybe I'm giving everyone too much credit. Maybe the more basic questions people discussed were "Would a personal computer really make our tasks easier?" and "Who needs a cellular phone?"
Obviously the times have changed. Or have they? We may not be asking the same exact questions now, but if you simply swap out the technologies involved, the mentality is very similar.
Looking back, those who were hesitant to adopt and adapt to the technical revolution going on around them were left in the dust as their more progressive competitors kept up with the times. The same is true now. In an earlier article we made the observation that a person's business card is a barometer of their place on the technological evolutionary scale. The lack of technologically current contact outlets on your card predicts your extinction, because this lack indicates your unwillingness to adapt to the times by adopting current technologies. It's not 1996 any more folks.
Twenty years later many reluctant business owners, who NOW would NEVER deny the value of their web page, are asking "Why do we need to be on Facebook?"
I'm shocked every day as I hear funeral professionals deny the value of a Facebook business page and the need for their business to have an active presence in social media. Look, things are moving much faster now than 20 years ago. In 3 years, any business without a Facebook page will be so far behind their competitors they may not be able to recover. By then everyone will be carrying a Smartphone because personal, non-data cell phones will be a thing of the past. Smartphones will be the primary way people will receive information, and social media outlets (which will continue to evolve) will be the primary way consumers will be educated about the products businesses offer. Old, one-way marketing methodologies will fade away as two-way marketing methods, made possible by social media, will continue their dominance.
Don't die by committing technological suicide! Let the professionals at DISRUPT Media help you to, within a month, have an active and attractive presence in Facebook and/or other social media outlets. We are the only full-service social media agency specifically catering to the funeral profession. Go to http://www.funeralsocial.com to find out more about the services we offer. Our clients who are a part of our FUNERAL Social Design Process are seeing an increase in post reach and engagement of over 300%.
Schedule a live demo with DISRUPT Media: http://www.funeralsocial.com/demo
Learn more about our FUNERAL Social Design Process: http://funeralsocial.com/social/
Download our social media goals worksheet: http://funeralsocial.com/social-media-goals-worksheet/
About Author
Ryan Thogmartin is a death care entrepreneur and the CEO of DISRUPT Media and creator of ConnectingDirectors.com. | Follower of Christ | Husband | Father | Entrepreneur | Host of #DISRUPTu! and #FUNERALnationtv | Lover of Skittles
DISRUPT Media is a social media first marketing company that focuses on social storytelling for funeral companies. DISRUPT uses insights gained through analytics to build creative campaigns that achieve actual business goals.
Schedule an online 30 minute demo to learn more about DISRUPT Media and how to reverse engineer your social media success: http://www.funeralsocial.com/demo