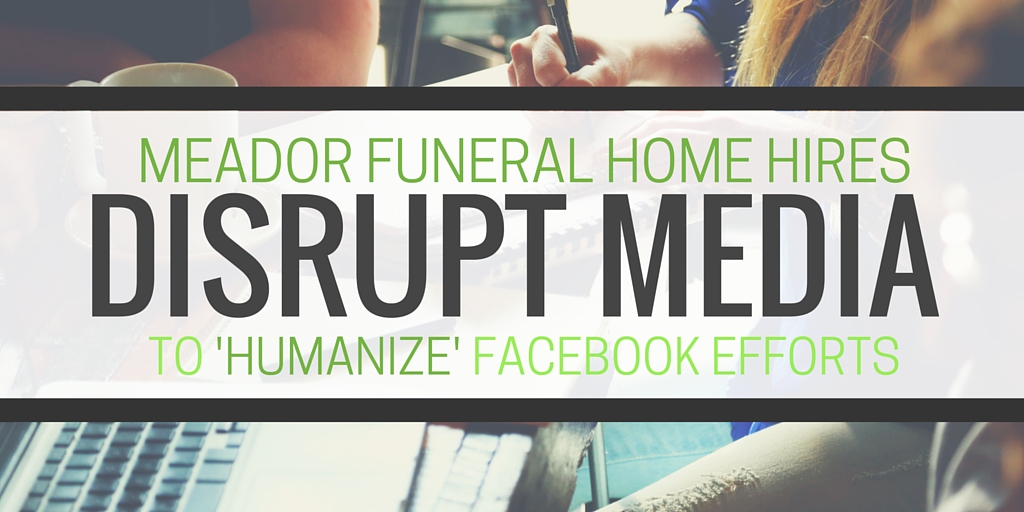 Realizing that an outside resource will better assist with their Facebook engagement efforts, Meador Funeral Home, with locations in both Gainesville and Whitesboro, TX, has selected DISRUPT Media to coordinate its social media strategy and content management. Using their proprietary FUNERAL Social Design Process, DISRUPT Media is partnering with Meador Funeral Home to achieve its goals of building the funeral home's brand as well as showing the "human side" of the funeral profession.
"I want people to have a better understanding of what it takes to be in funeral service", stated Tim Meador, owner of Meador Funeral Home. "Many times in the public forum, those of us in the funeral profession are portrayed as cold and uncaring, with only the funeral home's interest in mind. I wanted to take steps in my community to change this mindset with the media and with families"
Meador Funeral Home has long believed that the public has little understanding of what it takes to be a funeral director and work in the funeral profession. The hours are long and can be a grind at times. The firm wanted to convey the "lighter side" of funeral service and show that funeral professionals are people too - that live, work and play in the community.
"I became aware of the DISRUPT Media ads and was curious," commented Meador. "I contacted Ryan about his services and realized his team's objective perspective was just what I needed. He's helping put a 'human face' on Meador Funeral Home"
"Social media isn't just about amassing and posting random, impersonal comments. It's about leveraging that online following to create a caring personality for the funeral home," said Ryan Thogmartin, president and CEO of DISRUPT Media. "We are thrilled to have the opportunity to partner with Meador Funeral Home in further connecting the firm to the community in a personal and human way."
About Meador Funeral Home: Meador Funeral Home, from its two locations, has been serving the families of the Texoma Region for almost a century. The Gainesville operation dates back to 1922 and has been in its present location since 1928. The Whitesboro location has been serving the area for more than a decade from its modern location, but boasts a presence in the community for more than fifty years. Since its founding, Meador Funeral Home has been dedicated to excellence in service with the highest in integrity.
About DISRUPT Media: DISRUPT Media is a full service social media management and content agency dedicated to the funeral profession. Started by Ryan Thogmartin, DISRUPT Media provides creative ideas and a simple plan to produce a social media presence that is completely unique for each client. To learn more, call DISRUPT Media at 800.215.2713 or visit the website at www.DISRUPTmedia.co.