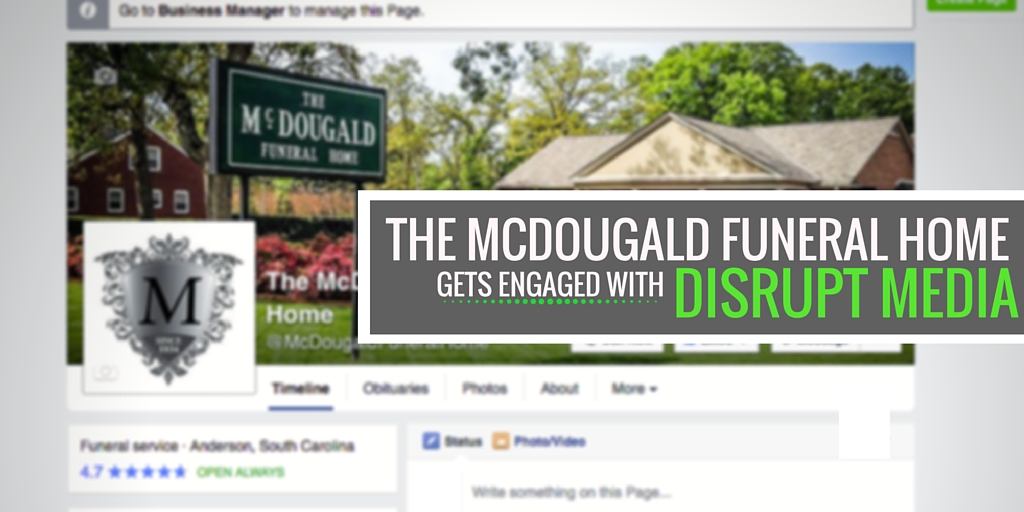 Seeking a way to use social media engagement to make a difference in their community, the McDougald Funeral Home, Cemeteries and Cremation Services has selected DISRUPT Media to coordinate its social media strategy and content management. Using their proprietary FUNERAL Social Design Process, DISRUPT Media is helping the McDougald Funeral Home become engaged on multiple levels.
"We are a very goal-oriented firm and we knew our social media partner had to be committed to delivering on the metrics we established," commented Todd Capps of the McDougald Funeral Home, Cemeteries and Cremation Services. "Not only has DISRUPT Media helped us deliver on every metric we set,but they have done it in a way that's fun and doesn't seem like work."
The primary objective of most social media efforts is to engage the community on a local and personal level. However, sometimes there are residual benefits to social media campaigns beyond engaging just the community.
"We decided to ask members of the staff to wear a sombrero for a Cinco de Maya post. I must admit, I was at first skeptical about getting the staff to participate when DISRUPT suggested it," commented Capps. "Much to my surprise and delight, we had young and old staff members photographed in a sombrero. That's engagement we never planned on!"
"At DISRUPT Media, we believe social media allows every funeral home to act in ways that separate their firms from the others in the market." stated Ryan Thogmartin, President of DISRUPT Media. "From singing 'Happy Birthday' to community leaders to donning a red nose on "Red Nose Day", the McDougald Funeral Home has allow us to create organic posts that really engage with the community and the staff. "
"Staff availability at the funeral home is always 'hit or miss', as our first priority is the families", commented Capp. "Ryan and his team have no trouble working in this environment to get our social media campaign created and posted."
About The McDougald Funeral Home, Cemeteries and Cremation Services: The McDougald family has served Anderson, South Carolina, and its surrounding communities with dignity and integrity since 1920. Jesse S. McDougald came to Anderson from Georgia and after working a period at other funeral home in Anderson, opened the McDougald-Bleckley Funeral Home in 1924. More information is available at www.mcdougaldfuneralhome.com.
About DISRUPT Media: DISRUPT Media is a full service social media management and content agency dedicated to the funeral profession. Started by Ryan Thogmartin, DISRUPT Media provides creative ideas and a simple plan to produce a social media presence that is completely unique for each client. To learn more, call DISRUPT Media at 800-215-2713 or visit the website at www.disruptmedia.co.